Through Mia St-Aubin's passion for fitness, her goal is to inspire Canadians to lead a healthier lifestyle and to MOVE better. She is the founder of MoveCamp, which started in Ottawa, is expanding to Toronto and Montreal this year, and soon to the rest of Canada.

Name: Mia St. Aubin
Age: 33
Hometown: Elliott Lake, Ontario
Profession: Holistic Health Coach/ Motivational Speaker
When you were first introduced to running/fitness? Tell us how your passion for fitness grew to what it is today.
I began running with my mom when I was 8 years old. Growing up, mom was a Canadian National Triathlete, and so I spent the better part of my childhood traveling around Ontario watching her win races. I have vivid memories of wearing her team Canada gear around the house and am still proud to say my mom came 3rd at World's and I got to train with her.I started running after school on Wednesdays down to the corner store to get a newspaper for my school project with mom every week, and I wasn't a huge fan at first to be honest, but then I found my passion in high school. I ran hurdles, I made it to provincials and was hooked.I went on to compete for the University of Ottawa varsity team which was a blast, and then with the Ottawa Lions and finished up my career on the Canadian Para-National team as a guide runner for a blind athlete. It was an amazing experience.Running is a still huge part of my life. I now run without a stopwatch and mostly to get a tan outside.

What are some adversities you've faced along the way or are currently facing?
For so many years I valued my self-worth as my time on the clock at the track or how many races I could win and how fast I could run, instead of loving myself regardless of the outcome.It took me years to learn self-love and it's something I work on daily. It has made the biggest difference in my life — I have witnessed a lot of success stem from my new found self-love both in my business and my body.
Liquid error: product form must be given a product
What are some of your recent personal goals?
Recently I've decided to work with larger organizations, wellness practitioners, and businesses to spread our message and help make MoveCamp possible. It sounds simple enough, but I have had to really work on my communication skills in order to get these professionals to see what I see. I have a tendency to think big picture, and fail to recognize that not everyone can see what I see. I've had to really become clear about what our purpose is, our mission is, and where I plan on taking MoveCamp. Big picture thinking is exciting, and completely necessary, but I've learned how important and valuable it is to be able to share and express that vision. This is what is making this project truly possible and I could not be more grateful for all of our partners involved.
Tell us about some current or upcoming projects you are working on.
I am currently in the process of expanding MoveCamp across Canada. Nearly five years ago I founded MoveCamp, the largest free fitness movement in Ottawa. My team and I have seen amazing success and now our aspiration is to move together at Canadian Landmarks.MoveCamp will be expanding in 2019 to Toronto and Montreal as well as developing an online presence so we can help Canadians lead a healthier lifestyle and move better.
What is the advice you'd tell to your younger self?
I would tell my younger self to get off the rollercoaster of emotions! I spent so much time worrying and stressing about outcomes, and not enough time planning to make things happen. I was still able to execute, but I wasted a lot of time worrying. I would also tell myself to trust and to have faith in the process, and that things ALWAYS have a way of working out.Basically, I would tell my younger self to chill out and enjoy the ride!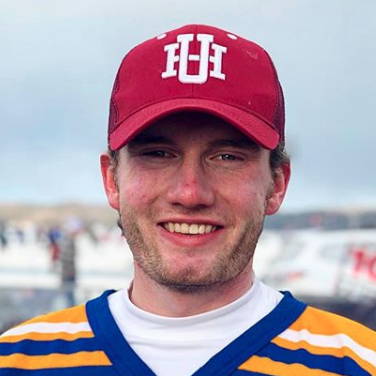 Sebastian Tomas of Ottawa, Ontario is a recent marketing graduate and newest Unsung Hero intern. His current goals include developing his marketing portfolio by connecting with like-minded individuals while continuing his studies in graphic design.