Hard work, dedication, perseverance, and how her passion snowballed into becoming a Muay Thai Canada professional,
all while balancing a master's degree and a full-time job

Name: Taylor McClatchie
Age: 27
Hometown: Ottawa, ON
Profession: Professional Muay Thai fighter / Research lab technician
Career Aspirations: I'm hoping to be successful enough in this sport to be able to pursue it as a career — whether it be fighting, coaching, or anything else.

How were you first introduced to mixed martial arts and tell us how your passion for the sport evolved.
I started training when I was 13 years old. I had a friend that had started going to the adult cardio kickboxing classes with her mom when she turned 13. As soon as I was old enough, I tried a class and liked it. I kept going, and my training slowly evolved from cardio kickboxing a few times a week, to kickboxing, to starting to spar, training for a demo fight, to wanting to fight my first amateur tournament, to eventually fighting full-rules professional Muay Thai. It was a slow progression that I never really realized was happening until it was too late and instead of graduating and going to med school (or whatever my parents would have wanted), I was fighting at a higher and higher level, and planning my entire future around my goals as an athlete. Sorry, Mom!

What are some adversities you've faced along the way or are currently facing?
Honestly, I'm pretty lucky. I've built a life for myself that revolves around being a successful fighter. I postponed graduating from my Master's so I could train — I turned a two year program into a four year program...oops. I negotiated my work hours so that I could train before work, over lunch, and in the evening. My partner is involved in the sport, and is my S&C coach. My friends and family know that everything in my life gets put on hold when I'm training for a fight. It's a crazy grind to be a full-time student, full-time athlete, and full-time employee, but it's exactly what I want. I have an amazing support system, so day-to-day I really don't feel like I have much to complain about in terms of 'adversity'. Of course I wish I could just be a full-time sponsored athlete and only need to focus on training, but this sport has definitely given me way more opportunities than adversities, so I'm happy to keep working my way to the top.
What are some of your biggest accomplishments to date?

Coolest moment: Professional debut, 20th straight win, and first clean knock-out at Madison Square Garden for Glory Kickboxing.
Total: 9x Muay Thai Champion
*2018 IFMA Pan American Championships in Buenos Aires, Argentina — Gold
*2018 National Champion
*Best female athlete at the National Championships 2018
*Represented Canada at IFMA World Championships in Cancun Mexico, 2017 (closest thing we have to the Olympics)
*2016 WKF World Champion in Muay Thai and K1 kickboxing
*2016 Muay Thai Ontario Champion
*2015 Thai Boxing Association Champion
*2014 Thai Boxing Association Champion

I also finally graduated from my Master's program last month with a Master's in Cellular Molecular Medicine — successfully defended my thesis two days after fighting a four-woman tournament. That was a pretty big non-training accomplishment to check off.
What are some of your current personal goals?
I will be a professional world champion. That's pretty much it.
Short term though, I want to fight as much as possible and improve my skills so that I can compete (and win) with the best. Ideally, I want to fight professionally again soon, but I also want to collect as much amateur experience as I can. We're lucky in Ontario that we can do both at the same time.
Also this spring, I want to represent Canada well at the World Championships in Dagestan.
Is there any advice you would tell your younger self?
I would tell myself not to under estimate the value of persistence and hard work. I would definitely not say that I'm exceptionally talented, or athletic, or skilled naturally... at all. But I have put in more time and effort than most people and have been very successful as a result. It took me a long time to believe that winning 20 fights in a row wasn't a fluke, or luck - but the result of hard work and good coaching, I would remind myself to have faith in those things and maybe save myself some stress and second guessing.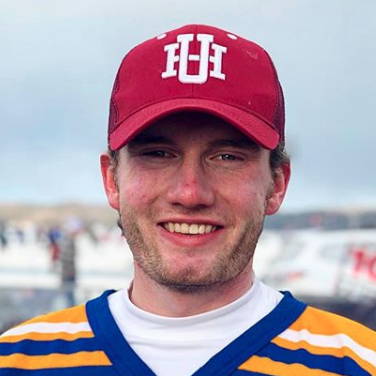 Sebastian Tomas of Ottawa, Ontario is a recent marketing graduate and newest Unsung Hero intern. His current goals include developing his marketing portfolio by connecting with like-minded individuals while continuing his studies in graphic design.